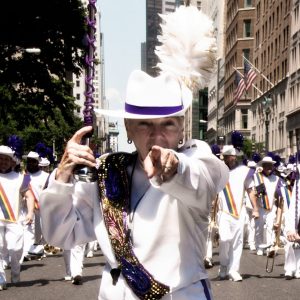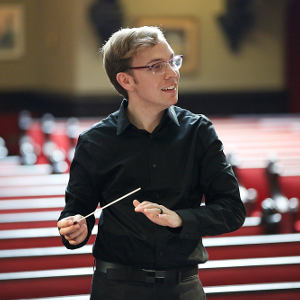 Director, Marching Band (she/hers)
Marita Begley is both marching director and a drum major in the Queer Big Apple Corps (the new name of the Lesbian & Gay Big Apple Corps), and she has served in these leadership roles for 17 years and 20 years respectively. Under her baton, the band has won more than 50 awards in civic parades and LGBTQ+ pride parades from Washington, DC, to Providence, RI; it also made history twice: The QBAC (under the name LGBAC) was the first LGBTQ+ band to perform in the Macy's Thanksgiving Day Parade (2020) and the first LGBTQ+ band to march in a Ticker-Tape Parade (Operation Welcome Home, 1991). 
For two decades, Marita has led the Big Apple Corps in events large and small throughout New York City and the East Coast. Under her direction, the band has tripled in size, attracted corporate sponsorship, quadrupled its donor base and annual budget, and raised the number and stature of its appearances, performing in iconic New York City venues (Madison Square Garden, MoMA–the Museum of Modern Art, CitiField, the High Line, Times Square and Herald Square, Brooklyn's Barclays Center, and the New York Botanical Garden) and at iconic events at home and on the road (the Hambletonian Race in the Meadowlands, the Coney Island Mermaid Parade, the New York City Marathon, FireWater in Providence, and the Syracuse State Fair). With its pop repertoire and splashy crowd-thrilling routines, the band is a hit with parade organizers (and audiences) everywhere from legendary NYC venues and small-town Fourth of July parades in Montclair and Asbury Park, NJ, to children's Halloween parades in Manhattan and Triple A ball games in Wappingers Falls, NY. 
Marita is also a sought-after artistic director when the international Pride Bands Alliance (PBA) has a high-profile event. In 2013, when the PBA massed band was invited to march in the Inaugural Parade of President Barack Obama, she was awarded the coveted job of serving as artistic director for the 200-plus musicians, color guard, and twirlers from 34 member bands across the United States. For the 2009 Inaugural Parade, she served as drum major for the PBA massed band in a historic performance that marked the first time an LGBTQ+ band marched in a Presidential Inaugural Parade. For California's 2016 Palm Springs Pride Parade, Marita co-directed the 250-piece PBA massed band, and in October 2019, for Florida's Orlando Pride Parade, she co-directed a 300-piece PBA massed band. Other massed band honors include directing the 180-piece PBA massed band in NYC's 2008 Greenwich Village Halloween Parade and drum majoring for the 200-piece PBA massed band in the Opening Ceremonies of the 2006 Gay Games in Chicago's Soldier Field before a crowd of 60,000.
In 2014, Marita—along with fellow honorees Jason Collins, Lee Daniels, and Isaac Mizrahi—accepted the Stonewall Foundation's Vision Award for her years of leadership as marching director and for her impact on the LGBTQ+ community via the band's out, loud, and proud artistry. She dedicates every performance to the memory of her beloved parents and godmother and to the amazing members of The Queer Big Apple Corps. She lives in Glen Ridge, NJ, with the love of her life, wife Ana Del Campo, and their dog and too many cats (and band trophies).
Director, Symphonic Band (he/his)
A native of South Africa, Henco Espag came to the U.S. in 2007 to further his musical studies at Berklee College of Music.
Henco has worked on numerous projects as composer, arranger, orchestrator, conductor, accompanist, music director, and session musician. He has been commissioned by choirs to write music that received international acclaim, including an arrangement for the World Choir Games in Xiamen, China and an original composition for the National ATKV Choir Competition in Cape Town, South Africa. Henco received the Georges Delerue Scholarship for outstanding achievement in film scoring at Berklee College of Music and was also awarded two bursaries from the South African National Arts Council. He also worked as an orchestrator for the feature film The Runner from Ravenshead by Little Crew Productions.
Henco was a part of the Musical Theatre Department at Westminster College of the Arts at Rider University, where he served as faculty, staff accompanist, vocal coach, and music director. He also serves as the new Music Director for Judson Memorial Church at Washington Square in Manhattan.
As music director and conductor, Henco has worked with directors Robert Johanson and Norbert Joerder, and performers Sally Struthers and Tony Award-nominee Meg Bussert. Henco served as the resident music director for the 2013 and 2014 seasons of Surflight Theatre, a professional regional theatre on Long Beach Island, NJ.
Henco served as the Artistic Director and Conductor for the Philadelphia Freedom Band from 2011 to 2016 and was appointed as the new Music Director and Conductor for the Queer Big Apple Corps Symphonic Band in May 2016.
Henco composed a full scale-musical that had its first public reading in the Fall of 2015 at Rider University and he is also working as composer with librettist John Olin on a new American opera.
As Composer-in-Residence for the Unitarian Universalist Congregation of Princeton, Henco's recent premieres include choral compositions On Children (text by Kahlil Gibran) and Wild Flowers (poem by Mary D. Brine). During his tenure, the Philadelphia Freedom Band premiered Henco's compositions (Sirkusoptog, Onheilspellende Nagwandelings [solo trumpet & band]), arrangements (Dueling Percussionists [two percussion soloists & band based on The Little Drummer Boy]), and, at their Spring 2016 concert, an arrangement of Afrikaans, (South African) folk tunes with accordion.
Chair: Julie Walsh (she/they)
Vice Chair: Helene Utterback (she/they)
Secretary: Nicole Gutman (she/hers)
Treasurer: Julian Lander (he/his)
Member-At-Large: Rebecca Brewer (she/hers)
Member-At-Large: Blair Eisenhart (she/hers)
Member-At-Large: Martha-Emily Harvel (she/hers)
Member-At-Large: Christine Lee (she/hers)
Executive Director: Jason Cannon (he/his)
Counsel: Maria Campigotto (she/hers)
Director, Program Services: Sydney Hayes (Marching) (she/hers)
Director, Program Services: Dana Robbins (Symphonic) (she/hers)
Director, Donor Relations: Ana Del Campo (she/hers)
Librarian, Marching Band: Rusty Riker (he/his)
Librarians, Symphonic Band: Eli Ramirez (he/his), Andrew Op't Hof (he/his), Kristen Marte (she/hers)
Social Media Coordinator: Jessica Brewer (she/hers)
Director, Marching Band: Marita Begley (she/hers)
Asst. Directors, Marching Band: Tara Fayazi (they/theirs), Steve Albanese (he/his)
Drum Majors: Brian Luke (he/his), Tara Fayazi (they/theirs), Steve Albanese (he/his)
Asst. Drum Majors: Kory Flores (she, they), ChaChovar Williams (he/his)
Director, Symphonic Band: Henco Espag (he/his)
Assistant Conductor: Royden Ringer (he/his)
Program Services Committee
Marching Events Coordinator: Justin Lemley (they/theirs)
Marching Membership Coordinators: Andy Richards (she/hers), Sam Perez (they/theirs)
Symphonic Events Coordinator: Steven Lewis (he/his)
Symphonic Membership Coordinator: Lucy Petropoulos (she/hers)